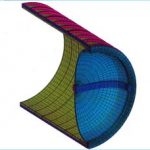 We performed an independent FEA on water tight mining bulkhead doors to determine structural integrity. The assessment included the bulkhead doors, the stress transfer cylinder (STC) embedded in a thick walled concrete cylinder, and the concrete cast into the rock excavation.
The structural integrity of bulkheads is a very important issue in mine safety. In the event of a water inrush from one side of mining operations that exceeds the mine pumping capacity, bulkhead doors are closed to save the the other side of the mine from flooding.
When a large inflow of water occurred, operators at the mine were unable to close the doors properly in a timely manor to prevent the flooding of the mine. As a result, two existing installed doors were submerged and not accessible for inspection. The bulkhead concrete was designed to resist the thrust load from the water pressure via shear at the interface of the rock excavation. The concrete thickness was determined to resist a specified grouting pressure that would be applied in the grout seal ring at the mid-length of the bulkhead after adequate curing, and to provide suitable tightness against water leakage.
The stress transfer cylinder was designed to transfer the large thrust load from the door into the plain concrete mass, as well as a uniform external pressure varying from the full water pressure to zero water pressure at the corrugated steel liner. It is expected that the low pressure grouting of the concrete to cylinder surface was done properly so that there are no voids.
---
We Perform Finite Element Design and Analysis for Clients in Industries including Energy, Manufacturing and Mining.